iSocial presents the report "Technological innovation and social services"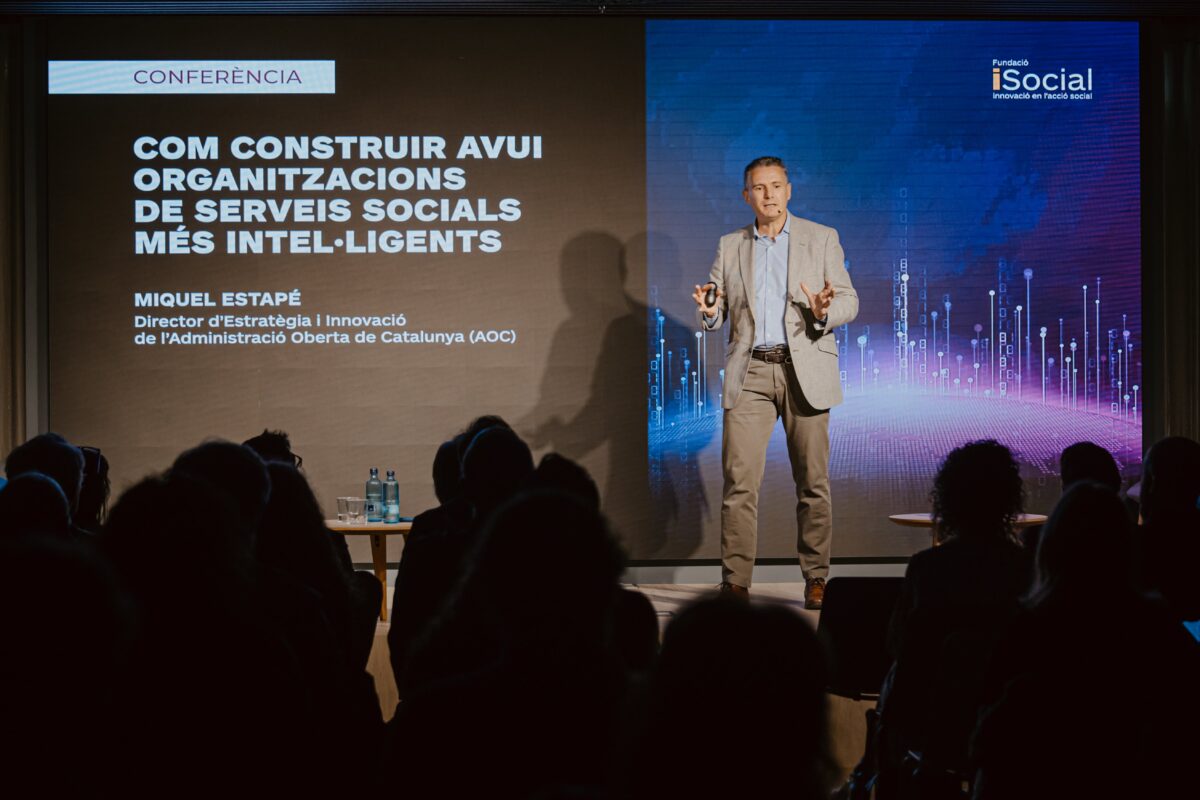 Publications
News
iSocial presents the report "Technological innovation and social services"
24 NOVEMBER 2022
At a public event held on 22.11.2022 at the NTT Data auditorium in Barcelona.

The social services system cannot ignore the use of technology and has to adapt the services it provides to the digital environment in which we live.
The iSocial Foundation presented yesterday the report on Technological Innovation and Social Services during an event in the auditorium of the company NTT Data, in Barcelona.
The event was opened by Ms. Montse Cervera, president of the iSocial Foundation, followed by the presentation of the report by Mr. Toni Codina, director of the Foundation.
Mr. Miquel Estapé, Director of Strategy and Innovation of the Administració Oberta de Catalunya (AOC), presented the opportunities, risks and challenges of technological innovation for the social services sector, establishing people as the central axis and defending that technology is a means and not an end. He also stressed the importance of data and its management for the proper functioning of social service organizations, both public and third sector.
Ms. Mariola Dinarès led the entire day, also moderating the debate that took place under the title "Learning from the daring". In addition to Mr. Estapé, Mr. Albert Giralt, CEO of the company Avinent, and Mr. Mikel Palazuelos, head of Health & Social Care at NTT Data, also participated in the debate. The event was closed by Mr. Lluís Torrens, Secretary of Social Affairs and Families of the Department of Social Rights of the Generalitat de Catalunya.
The report presented by iSocial during the conference reviews the different emerging fields of technological innovation in social services: remote communication and accompaniment, empowerment and self-management, improvement of personal autonomy and organizational intelligence.
Through a proposal of next steps to follow, the iSocial Foundation raises 20 proposals aimed at Catalan and Spanish organizations in the social services sector, to move forward and with the aim of focusing the technological environment of social services in order not to ignore the use and efficiency that involve the use of technology. Among these 20 proposals, the iSocial Foundation claims that administrations must redefine the portfolios of social services to incorporate the changes that the use of digital tools entails.
Below you can see a selection of photographs of the presentation of the report in Barcelona.