Riesgos y beneficios de la intervención social en remoto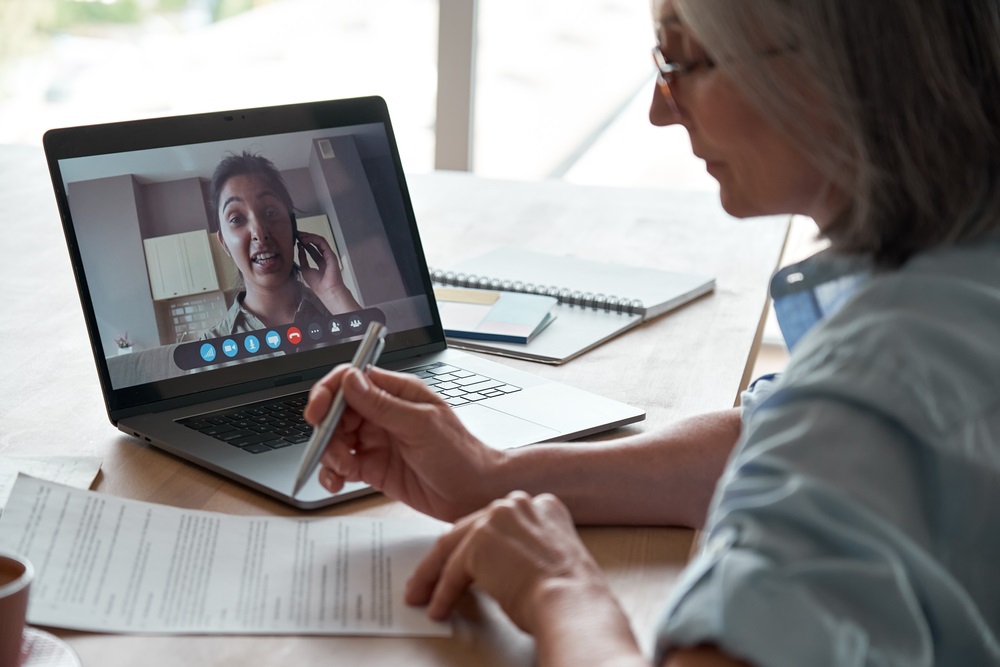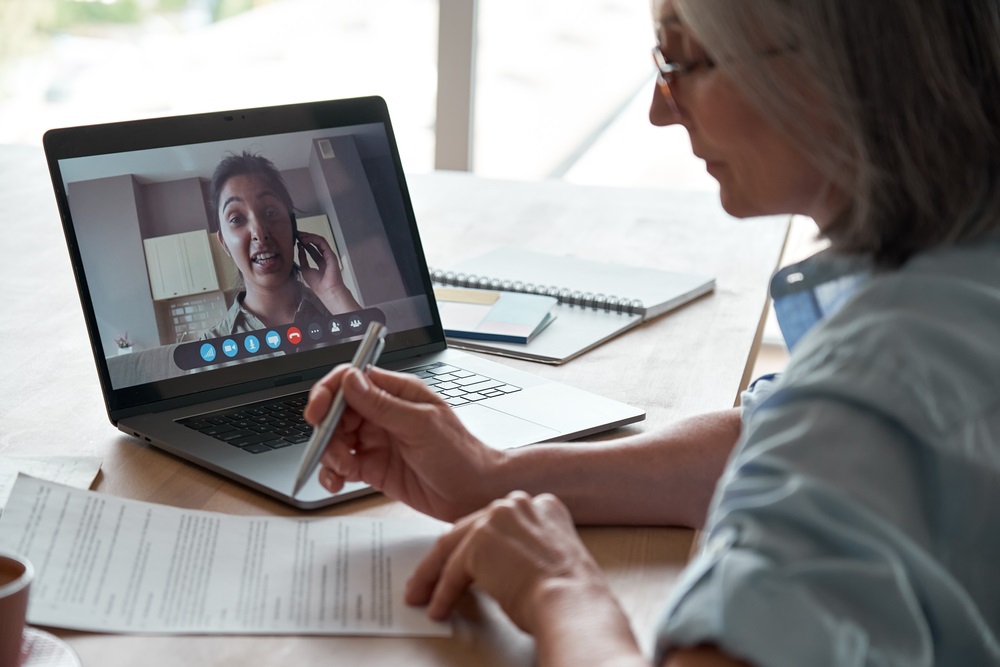 La transformación digital ha afectado radicalmente la forma de comunicarnos. El sector de los servicios sociales no es la excepción. ¿Qué ventajas tiene la intervención social en remoto y qué resistencias presenta?
La pandemia de la COVID-19 ha forzado cambios rápidos en casi todos los ámbitos laborales, educativos y personales. Esta necesidad de readaptación ha puesto de relieve las limitaciones de los sistemas actuales, ante una situación en la que muchas personas vulnerables o con necesidades especiales se han encontrado con barreras y dificultades para acceder a los servicios habituales.
Por un lado, el distanciamiento social ha impulsado el desarrollo de nuevas herramientas y programas en remoto que buscan la innovación para seguir proporcionando servicios de la forma más eficiente posible a los colectivos vulnerables, venciendo las barreras digitales, físicas y logísticas. También han cobrado relevancia algunas herramientas de comunicación que ya existían, pero no se habían normalizado en el entorno profesional.
Por otra parte, a raíz de esta situación, se ha puesto sobre la mesa el debate que contempla los riesgos y beneficios de la intervención social en remoto. Este debate, que ya existía desde hace años, despierta opiniones polarizadas que giran en torno a preguntas de tipo ético, práctico y estratégico: por ejemplo, ¿hasta qué punto se puede optimizar la protección de datos y la confidencialidad de las personas en el uso de tecnologías de intervención social? ¿Qué resistencias y dificultades pueden tener las personas a la hora de utilizar estas herramientas?
Las barreras y resistencias de la intervención social en remoto
La rápida adaptación de las tecnologías a los diferentes ámbitos ha marcado, sin duda, un antes y un después, produciendo cambios en los hábitos de la población y en la manera de consumir servicios y productos. En muchos casos, la asistencia telemática ha sido fácilmente acogida por las comodidades que supone en términos de tiempo y desplazamientos. Sin embargo, en el ámbito de los servicios sociales, dada la naturaleza de estas intervenciones, se han observado algunas desventajas en la comunicación telemática que causan preocupación. Estas son las principales:
Las limitaciones de la interacción y los matices que se pueden perder por videollamada. El lenguaje no verbal, como el contacto visual, la postura corporal y los gestos, como los asentimientos, ayudan a comunicar respeto y atención y son importantes a la hora de establecer una relación de confianza con la persona que recibe ayuda. En las videollamadas, el ángulo de la cámara dificulta el contacto visual. Además, en muchos casos, las habilidades interpersonales de los trabajadores sociales se han desarrollado cara a cara y puede resultarles difícil adaptarlas al contexto digital.
La elevada dificultad para detectar factores de riesgo. Por ejemplo, de manera telemática puede ser difícil realizar una evaluación de la tensión en un hogar con situaciones de abuso o de violencia doméstica, ya que la privacidad de la persona y su libertad para comunicarse pueden verse afectadas.
Las habilidades digitales de todas las personas implicadas en la intervención. El uso de tecnologías es una barrera para algunos individuos, especialmente para los grupos de edad más avanzada que no están familiarizados con herramientas digitales como las videollamadas, y que se encuentran en riesgo de quedarse atrás debido a la brecha digital.
El desconocimiento y consentimiento en el uso de datos de las personas. En muchos casos, especialmente con usuarios que no están familiarizados con herramientas digitales, existe una carencia de conocimiento sobre el uso de datos de las aplicaciones y algunas personas pueden estar dando consentimientos sin saberlo.
Límites personales y profesionales. En ocasiones, los trabajadores sociales pueden utilizar herramientas como chats y videollamadas para ponerse en contacto con las personas que necesitan asistencia. Aunque la telecomunicación tiene muchas ventajas, a algunos trabajadores y trabajadoras sociales les preocupa que esto pueda invadir los límites entre la vida profesional y la vida personal, tanto en horarios laborales como en confidencialidad.
¿Qué soluciones existen para estas barreras y resistencias?
Cabe destacar que, a pesar del listado de barreras, el desarrollo de las relaciones entre profesionales y personas asistidas es complejo y depende también de una serie de factores: la personalidad de ambas partes, los comportamientos, las experiencias previas, los valores y las influencias comunicativas de la relación, entre otras. La eficacia y las barreras de las intervenciones en remoto pueden variar y, en algunas situaciones, presentar muchas más ventajas que inconvenientes.
Éstos son algunos ejemplos de las ventajas:
Ahorro de tiempo y gastos de desplazamiento. Algunas personas atendidas se encuentran en situaciones económicas difíciles y los gastos de desplazamiento pueden suponerles un esfuerzo añadido. Además, muchos menores, jóvenes, ancianos o personas con discapacidad dependen de sus cuidadores para los desplazamientos. En estos casos, las comunicaciones en remoto actúan como herramienta de inclusión.
Flexibilidad. En ocasiones, el tiempo de desplazamiento y los horarios pueden ser una barrera. La comunicación digital tiene la ventaja de la inmediatez y flexibilidad, tanto para los trabajadores sociales como para los beneficiarios de los servicios.
Comodidad. En algunos casos, es posible que una persona se sienta más cómoda pidiendo ayuda por canales digitales desde su zona de confort que acordando encuentros presenciales. Existen casos de personas que quizás no accederían a los servicios si no existiera la opción online. Además, éstos también favorecen a las personas con problemas de movilidad.
Gracias a estas ventajas, una parte importante del sector de la acción social contempla los mencionados riesgos como un reto que vale la pena afrontar para idear y desarrollar herramientas que posibiliten la coexistencia de la práctica en remoto y la práctica tradicional, de modo que siempre se garantice la eficacia y confidencialidad del servicio. Algunas experiencias de éxito en el ámbito de los servicios sociales están demostrando hoy que esto es posible, como el servicio de acompañamiento remoto DigiContact de los Países Bajos, el servicio de apoyo psicosocial Ipso de Alemania, el servicio de intervención grupal Circles de Estados Unidos, o la aplicación para jóvenes Flapp! desarrollada en Cataluña por la Fundación iSocial.
Intervención social en remoto: ¿qué se debe tener en cuenta?
Como hemos visto, la eficacia de las intervenciones sociales en remoto depende de un conjunto de factores a evaluar en cada caso, considerando los aspectos éticos y prácticos. Teniendo en cuenta la rápida transformación digital, es de esperar que la formación de los trabajadores sociales incluya, cada vez con mayor frecuencia, habilidades con herramientas digitales que se adapten a las nuevas necesidades de la ciudadanía. Así pues, la transformación del sector de la acción social gira en torno a cuatro ejes: accesibilidad, alfabetización, igualdad y empleabilidad.
Para garantizar la seguridad y calidad de las intervenciones sociales en el entorno digital, es necesario aplicar algunas directrices:
Facilitar la alfabetización digital de los grupos menos familiarizados con este tipo de tecnologías. Por ejemplo, en el barrio de la Sagrera de Barcelona se ha puesto en marcha un servicio de acompañamiento en el que los vecinos se ayudan mutuamente en las gestiones que requieren el uso de las TIC, de la mano de personas voluntarias.
Facilitar a los trabajadores sociales formación en herramientas TIC que respondan a las necesidades de diferentes casos y perfiles, estableciendo protocolos de confidencialidad y asegurando que ambas partes los conocen y respetan.
Asegurarse de que la persona beneficiaria del servicio o atenciónconoce los términos de uso de las tecnologías y que se cuenta con su consentimiento informado.
Facilitar el acceso a herramientas e instrumentos (como un ordenador o la instalación de una aplicación) a la persona que recibe el servicio, en caso de que no disponga de ellos.
Explicar los límites personales del trabajador social por adelantado, a fin de evitar que la otra persona se sienta rechazada: por ejemplo, explicar que no acepta solicitudes de amistad en las redes sociales por razón de profesionalidad.
Referencias
[1] Remote service delivery during the COVID-19 pandemic: Questioning the impact of technology on relationship-based social work practice. Oxford Academic. Disponible en: https://academic.oup.com/bjsw/advance-article/doi/10.1093/bjsw/bcab242/6460190
[2] Una experiencia. Uso de las Tecnologías de la Información y la Comunicación (TIC) para la intervención social en servicios sociales. Servicios Sociales y Política Social. Disponible en: https://www.serviciossocialesypoliticasocial.com/una-experiencia-uso-de-las-tecnologias-de-la-informacion-y-la-comunicacion-tic-para-la-intervencion-social-en-servicios-sociales
[3] The Perils and Benefits of Remote Social Work. NYC Reopens. Disponible en: https://nycreopens.com/the-perils-and-benefits-of-remote-social-work/
[4] Conexión comunitaria contra la brecha digital. Ajuntament de Barcelona. Disponible en: https://ajuntament.barcelona.cat/imi/es/noticia/conexion-comunitaria-contra-la-brecha-digital_1049132 [22/04/2022]
Training program for technical staff of Social Services of local authorities. Online (15h).