EyeHarp, a digital musical instrument through sight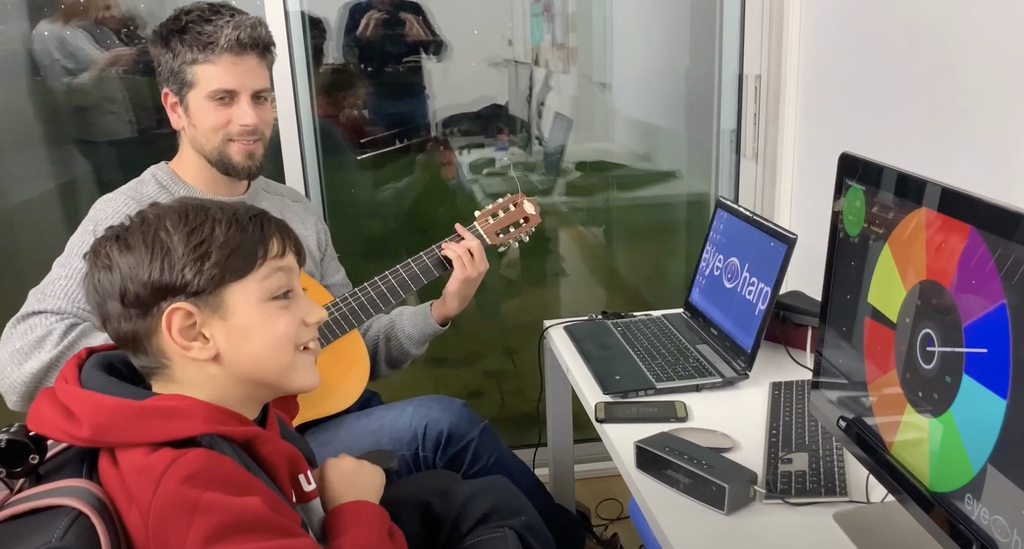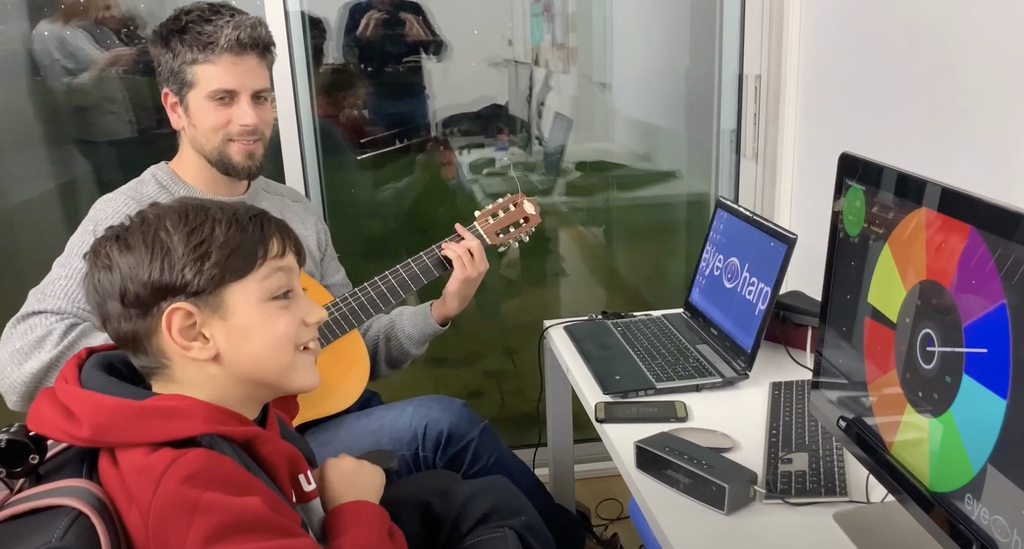 Digital musical instrument for people with physical disabilities which, thanks to eye-tracking and interaction and expressiveness with the instrument, allows to select chords, arpeggios, melody and volume, allowing to produce notes and create melodies with the gaze.
The programme works with an eye-tracker, a special camera that monitors eye movement, and with a software that must be installed on the device. The software download is open source and free of charge, and allows you to learn music from scratch and improve your technique. In addition, it adapts to the level of musical knowledge of each user, and includes a variety of sounds and melodies.
EyeHarp has been specially designed for people diagnosed with cerebral palsy, amyotrophic lateral sclerosis, muscular dystrophy, upper limb amputation or spinal cord injury. It is also suitable for people with intellectual disabilities. In addition, the Eye Harp Association offers training for music therapists and music teachers, as well as music lessons for people with motor disabilities.
The programme aims to improve the quality of life of users, as playing music with EyeHarp provides health benefits: musical training stimulates certain parts of the brain and improves verbal and auditory memory, among others. It also promotes self-esteem, emotional expression and creativity.
EyeHarp has made it possible to create digital and accessible musical instruments by combining computer science and music. In short, it offers an innovative and revolutionary service for music education and music therapy.
Characteristics of innovation
Localization
Barcelona, Spain
Partners / Funders
City council of Santa Perpètua de Mogoda
Genesis
Eyeharp's idea was born in 2010, when a friend of musician Zacharias Vamvakousis suffered a motorbike accident and at first it seemed that he would never be able to play music again. It was then that Zacharias, a musician and computer scientist, realised that there was no musical instrument for people with physical disabilities and began to create EyeHarp.
Level of implementation
According to Vamvakousis and Ramírez (the creators), who have published their work in the journal Frontiers in Psychology, "the results obtained indicate that, just like traditional musical instruments, the digital musical instrument we have developed has a steep learning curve and allows us to produce expressive performances, both from the point of view of the performer and the audience".
The project has received funding from the EU's Horizon 2020 research and innovation programme, as well as from the Spanish TEN (Tecnologías Informáticas por la Sociedad de la Información) projects within the TIMUL project. In 2020 it received the Barcelona Activa award for Social Entrepreneurship.
Currently more than 1,000 people use the programme free of charge and 40 use the Premium version.