Startblok, self-managed housing for local youth and young refugees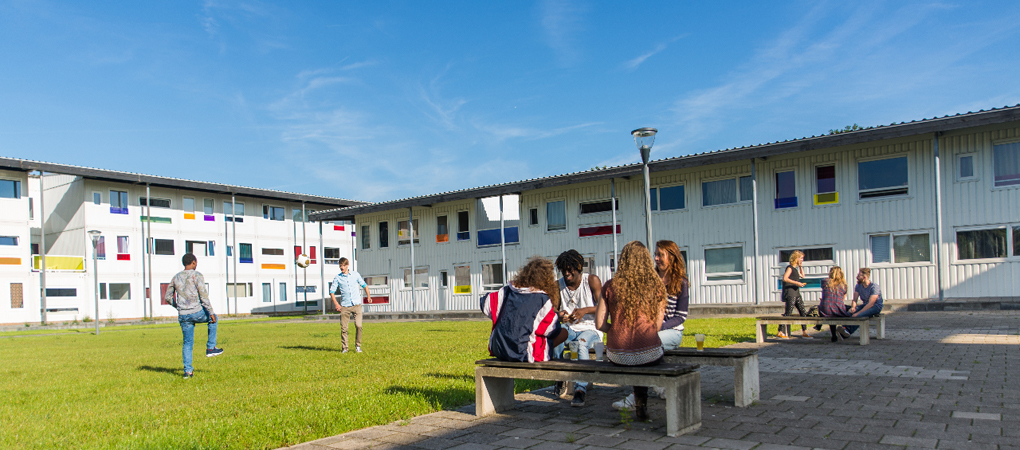 Publications
Bank of innovations
Startblok, self-managed housing for local youth and young refugees
Woonstichting De Key, Ajuntament d'Amsterdam, Socius Wonen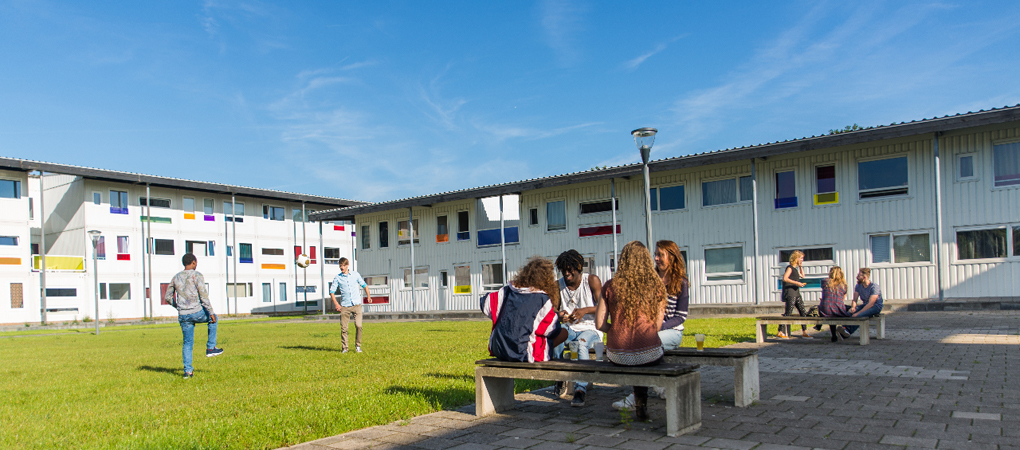 An innovative model that addresses the housing needs of both young people and refugees. It promotes the integration of young people from different backgrounds who have the common goal of an affordable home. It offers them housing at an affordable price and with a secure rent, which allows young people, both locals and refugees, not to be expelled from the city and to be able to access a job or continue their studies.
Startblok Riekerhaven is aimed at Dutch people and refugees between 18 and 28 years of age who want to get actively involved socially. For a much lower price than the market price, Startblok offers self-contained temporary housing –with a kitchen, a bathroom and a toilet– which is variable in size –around 20 m²– and common areas for each residential group, equipped with a kitchen and a balcony. This space allows for the sharing of life experiences and knowledge, thus contributing to the creation of a community respectful of diversity and reinforcing social cohesion. Residents are selected on the basis of their vulnerability and willingness to be involved in the social and cultural aspects of the project and to commit themselves as a long-term member of the community. The maximum tenancy is five years and, when someone moves on, they are replaced by a new resident of a similar profile –gender, age and educational level– to maintain the balance and diversity of the project.
At Startblok, equal and respectful treatment of all residents is key, as well as the coexistence of very different cultures, languages, customs and ways of doing things. The community functions through the self-management and self-organisation of the residents themselves, with spaces to elaborate and implement their initiatives, both for the formation of community and social cohesion and for the day-to-day maintenance of the model, such as the selection of new tenants and the management of applications. It is this way that a comfortable and pleasant living environment is created, where everyone feels welcome, valued and supported; in short, a home. This housing model thus makes it easier for refugees –who have just arrived in a new country– to build friendships and contacts and to rebuild their lives. It is thus an innovative example of how to address the needs of refugees in a positive way, while providing much-needed affordable housing for young people.
Localization
Amsterdam, Netherlands
Partners / Funders
Gemeente Amsterdam, Ykeallo, Vluchtelingenwerk
Genesis
In 2015, at the height of the migration crisis in Europe, there was a very high number of asylum applications in the Netherlands. Amsterdam was looking for a creative solution to provide a home for these people, but at the same time it also had to deal with the social and economic problems that prevented young Dutch people from finding a home. It was then that the idea was born to start a housing project, 50% for refugees with asylum status and 50% for young Dutch people. Startblok Riekerhaven came to life in 2016, with the arrival of the first residents. As a result of the cooperation between Key, the municipality of Amsterdam and Socius Wonen, the Riekerhaven sports complex was refurbished and converted into housing where more than 500 young people now live.
Level of implementation
The Startblok model –initially in Riekerhaven– has created dialogue and social cohesion between different groups of young people, both within the community and outside in the neighbourhoods where they are located. The success of the model has been reflected in its replication. In Elzenhagen, in the same city, more housing has been built following the same logic. Thus, the Startblok model inspires similar initiatives and can be replicated wherever there are vacant plots of land or housing.

E-Fabrik is an innovative initiative that brings together young people and individuals with disabilities in a creative community with the aim of jointly conceiving solutions to address the challenges faced by people with disabilities in their daily lives.