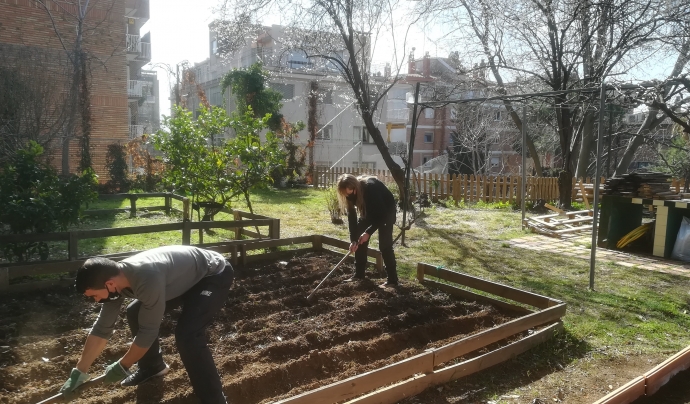 Through urban agro-ecology, the Fénix project in the city of Barcelona promotes the social and occupational inclusion of people undergoing treatment for drug addiction. The therapeutic garden and orchard, developed under the slogan "Cultivating new opportunities", also contributes to destigmatising the group of people with addictions.
The project is located on the grounds of the Care and Monitoring Centre (CAS) in Sarrià (Barcelona), which has become a climatic refuge within the city. It has a total of 10 hectares and works by applying regenerative cultivation techniques, i.e. the approach to plant production is respectful, ecological and sustainable. The facility enables the personalisation of social insertion itineraries that improve the employability of the participants, who take part in the whole process, from the cultivation and maintenance of the plants to the organisation of the tasks and economic planning, in relation to the promotion and sale of the cultivated products. The participants receive basic training in agroecology and gain experience in social entrepreneurship and marketing of the products. The project also enables participants to be self-sufficient in food and promotes responsible consumption and a sustainable food system.
The project has a community aspect, with the garden being at the same time a space for exchange and use by organisations and people from the district who need to meet or carry out outdoor activities. In addition, the resulting food is destined to social services, so that people with addictions who participate in the Garden and Hort Fènix multiply the social impact they receive by helping other people.
Characteristics of innovation
Partners / Funders
Grup ABD, Public Health Agency Barcelona ASPB, Col·legi d'Arquitectes de Catalunya (COAC)
Genesis
The Jardí Fènix project was promoted by the drug area of the ABD Group during the Covid pandemic, in 2020, as a way of continuing to support drug addicts in the Sarrià CAS. The aim was to give new opportunities, to bring people back to their former lives, and to accompany the therapeutic process in a dynamic way and in the open air.
Level of implementation
The therapeutic garden and vegetable garden project has been running for more than 3 years now. Fifty-six people have participated and 150 kilos of organic fruit and vegetables have been harvested. The ABD Group has consolidated the project and has become part of the Green for Good initiative, promoted by the Ferrer Sustainability Foundation